Microfinance Case Study India
This paper presents case studies of successful microfinance institutions (MFIs) in India, prepared by the MFI, BASIX, for the International Fund for Agricultural Development (IFAD) in order to assess the proposal to finance the 'SIDBI Foundation for Microcredit (SFMC)'.
The study:
Aims to prepare case studies of twelve successful MFIs in India and analyze the social technology, costs, and risks of four of them.
Focuses on:

Evolution of the MFI and its mission statement;
Legal status, ownership and governance;
Areas of operation, size and growth over a period;
Products, operating costs, budget, sources of funding and human resources.

Comprised field visits, personal interviews and analysis of management reports that looked the MFIs' cost and revenue structures.
The study found that:
Most MFIs were under-capitalized, mainly due to their legal forms;
Although the overall asset quality was good, it could be improved by tightening the loan appraisal process and regular monitoring;
Most MFIs had dedicated CEOs, who were, in most cases, also the founders;
Liquidity was not a constraint.
The study recommends that SFMC should:
Encourage diversity in lending methodologies, legal forms and financing mechanisms;
Not have restrictions on onlending rates;
Think of capacity building as a risk mitigating mechanism;
Get mainstream financial institutions involved in microfinance.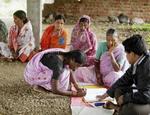 (Click to enlarge)
SKS Microfinance Limited (SKS) is a non-banking finance company regulated by the Reserve Bank of India and currently operating in 19 of India's 28 states. SKS' mission is to eradicate poverty by providing financial services to the poor.
A study conducted by the Navnirman Institute of Management on the microfinance industry in India provides case studies illustrating the human impact of SKS's work.
One such story is Bandaru Lakshmi's:
When Lakshmi came to Atukula Bazaar in Suryapet with her family, they were penniless. The family had no hope of surviving. Her husband was not doing too well at his business and no one was ready to lend them money. Lakshmi was worried about how they would bring up their two daughters and their son.
When Lakshmi found out about SKS operations in her village, she took an income generating loan of INR 10,000 (USD 212). She used this money to buy and sell readymade garments in the nearby villages. With a heavy load on her head, she went door to door and worked hard to save money. Confident about the sales and her hard work, she took a second income generating loan of INR 12,000 (USD 255). Later, she took a loan of INR 14,000 (USD 297) to purchase the readymade cloth for more sales. Her daily earnings grew steadily. Today, she clocks a monthly income of INR 30,000 (USD 638) per month.
Lakshmi is an inspiration to many today. A role model to others in Suryapet, Lakshmi recently felt most rewarded when her eldest daughter secured a job in Infosys.
"Thanks to the loans SKS extended to me time and again, I was able to give my children a decent education. Today people respect our family and I am grateful," she says.
Further information
---
Categorisations
Partnership types
Doing business with the poor
Regions / countries / territories
Asia: India
Global issues
Job creation and enterprise development; Financial accessibility and management
Business sectors
Finance