Online Essay Competition Nigeriaworld
90'+4' GAME OVER! That is very disappoint for Argentina but Nigeria managed that one perfectly even after going down 2-0. 
90'+4' Argentina with a nice spell but just a lot of balls flying into the box with no result. 
90'+2' Corner is met by Otamendi and doesn't quite go wide. Argentina recover out on the left. 
90'+1' Perez fouled again. further out on the left now and it's sent in. Nigeria put it out for a corner.
89' Perez turned upside down by Mikel. Free for Argentina with Banega lining it up. He strikes and drives it over.
86' Kayode replaces Iwobi, who has to be the man of the match.
85' Isowbi races forward, skips past Perez, who makes a lame effort of a tackle. Musa crosses and Argentina put it out for a corner.
85' Musa cuts inside, beats a defender, and crosss. It's cleared by Argentina. Nigeria looking dangerous every time they break.
83' Benedetto with a chance. He heads at Uzoho, the substitute keeper, and he palms it over. Corner and Otamendi strikes it as it falls to him. Wide!
81' Corner comes in and Ndidi heads just wide. He had a free header there. Probably could have done better and seems to know that himself.
80' Insua replaces Pezzella.
79' Another chance. Iwobi sends a cross deep but Mascherano heads away. It falls to a Nigerian player again at the back post and Nigeria attack again but it ends with nothing.
77' Nigeria were so tame in the opening 45 minutes. That goal gave them hope and they have exploded to life. Four unanswered goals. What a turnaround.
75' Back to the same set-up. Argentina with loads of possession and Nigeria soaking it up.
73' 4-2! Iwobi again. Nutmegs Mascherano with the right and buries it with his left.
71' Argentina still looking for a way through. Nigeria happy to soak up the pressure knowing that the Argentine's are fragile against the counter.
69' Iheanacho off and Musa on to keep the Leicester contingent strong in the Nigerian squad.
67' Corner bobbles around before arriving to Enzo Perez. He heads over despite Argentinian cries for another corner.
66' Di Maria receives a ball over the top from Banega and he crosses but Nigeria manage to clear it out for a corner. Sampaoli out of the technical area and he's not happy in the slightest.
63' Banega strikes straight at a defender and Nigeria break again. They are finding more and more room at the back here. Argentina all over the place at times.
61' Balogun replaced by Omeruo.
60' Game has been very patchy since the two goals. Argentina trying to build superiority again but finding it hard.
59' Cross comes in from the right and Iheanacho flicks it towards goal. Looked like it might sneak by Marchesin but he saves.
57' Benedetto with the ball out on the right and he tries to cross but it's blocked and takes a kind Nigeria bounce. Nigeria on the break.
59' Lo Celso replaced by Alejandro Gomez.
57' Benedetto with the ball out on the right and he tries to cross but it's blocked and takes a kind Nigeria bounce. Nigeria on the break.
57' Iheanacho looking for another but he hits the ground under a challenge from Otamendi. No free and Argentina steal away with the ball.
56' Granted it's a friendly but Argentina have taken their foot entirely off the gas here. Nigeria barely threatened and now have three goals.
54' GOAL! Idowu curls home after a counter by Argentina. 3-2 now.
53' Poor from Argentina. They've been the much better team.
52' GOAL! Iheanacho squares to Iwobi. He finishes past Marchesin.
52' Enzo Perez hits the ground and Obi Mikel seems to catch him with a boot as he lies on goal.
50' Corner headed wide by two Nigerians at the back post.
50' Otamendi concedes a corner. Poor touch by Lo Celso gifts Ebuehi the ball. 
49' Dybala to Mascherano and he lets fly with a cross. Cleared by Nigeria and it comes straight back down to Akpeyi, who gathers and sets Nigeria up.
47' Argentina back in the driving seat to start the half.
46' Aguero replaced by Benedetto.
46' We are back underway! 
45' Half-time. Sampaoli and Argentina will have to be upset with that. They controlled the game completely and then concede a goal just before the break.
45' GOAL! Nigeria score with their first proper chance. Free-kick beats Marchesin although he did get a hand to it. Iheanacho the goalscorer.
44' First proper chance for Nigeria. Iwobi fouled outside the box by Mascherano. 
43' Ball in around the back and Di Maria is offside.
42' Dybala bundled over by Aina. 
42' Good cross but Nigeria head it away. Straight back to Argentina. Mascherano wiht it and plays it to a teammate. Argentina in third gear and very comfortable here.
41' Di Maria wins a corner. 
40' Balogun gives the ball away and Argentina have a break. They can't do anything with it though but keep possession and recycle it! 
39' Obi Mikel fouled by Enzo Perez as he tries to start a counter.
37' Nigeria really off the pace so far. They've struggled to generate anything. Two goals down now in the first half!
36' GOAL! Pavn down the right and squares to Aguero, who makes no mistake from close range.
33' Decent move by Nigeria but it ends in a throw to Argentina as Iwobi fails to control it.
32' another good break. Lo Celso and he plays it back to Aguero, who shots but sees it blocked. Lo Celso gets it again and strikes wide.
32' He misses the target though.
32' Otamendi with a free header! 
30' Otamendi drives forward. Finds Enzo Perez in a very advanced position but the keeper comes out and saves. Corner. 
28' Banega scored from the free-kick. He sends it to the keeper's right.
26' What is going on? The keeper handles it outside the box. He threw the ball down, picked it up as Aguero closed him down, handling it outside the box. Ref gives a free and nothing else? No card or anything? That was weird.
25' Aguero's back up and we are back in action.
23' Ball comes into the back post again. Pavon sends it back and Aguero shoots. He looks to be fouled but strikes it despite his foot being clipped. He's down injured now and another stoppage.
22' Argentina getting closer. Still no chances on goal but they prying down the left-hand side with Di Maria growing into it.
20' Di Maria takes it all the way down the line again and Pavon fouls Aina as the ball comes into the back post.
20' Back in action and another foul. Di Maria gets ready to swing it in. Good ball but cleared by Nigeria.
18' Yellow for the Liecester player. Otemandi still grabbing his jaw.
16' Otamendi goes down under a challenge from Iheanacho. Elbow to the face and the Argentine is not happy. Some pushing and shoving before that. He's being checked by the trainers.
14' A few Argentinian fans in the crowd with a very homemade sign. "Argentina forever", it reads. Corner eventually comes in and it's cleared. Argentina back in possession.
13' Sent in and Balogun heads clear before colliding with his own player. A head injury, or a jaw injury more precisely.
12' Pavon wins a corner. 
10' Argentina being forced back. They have no target man to speak of. That right-hand side proving somewhat fruitful though.
8' Argentina with a very measured approach so far. They have just under 60% of possession but not really troubling Nigeria yet.
6' Argentina press, force them backwards and then Akpeyi hits it long.
6' Nigeria with their first chance to hold onto the ball. They're deep in their own half.
5' Mascherano long ball to Pavon and he turns back before Argentina set up. Aguero puts Dybala through and his shot is blocked before tamely bouncing up to Akpeyi.
5' Sampaoli up and stalking the sidelines. 
4' Otamendi goes down after being caught by Shehu. Looked harmless enough and Argentina win the free.
3' Ball starts on the left with Di Maria and makes it's way to the right with Pavon but he's offside. 
2' Argentina throwing it around early on. They lose it and pressure early, and eagerly, before winning it back.
1' Sampaoli and Argentine could not inflict their style of play given the pressurised circumstances he took over in. It will be interesting to see if he finally stamps his style on this side ahead of the World Cup.
1' We are underway. 
Mascherano and Jon Obi Mikel up for the coin toss and a picture before kick-off.
The Nigerian national anthem blares to a sparse crowd. And not it's time for the Argentinian anthem.
Paulo Dybala gets the start tonight. He recently said he struggles to play with Messi but says the comments were taken out of context. He said there were lots of questions and the bulk of them were about Messi. He said loads of nice things about his teammate too but the one bad thing he said, he says was used. Messi laughed it off when they met recently and explained to the young Juventus player not to take everything in the press so seriously.
The referee and his assistants for this evening are all local chaps:
Nigeria have already announced their team for this afternoon's game. The starting 11 is as follows:
Nigeria captain Jon Obi Mikel said before the game that Argentina chose to play the Super Eagles as they would pose a stern test for the Albiceleste.
There will be no Leo Messi this evening, La Pulga having been given the night off, so it's expected that Paulo Dybala will play in his place.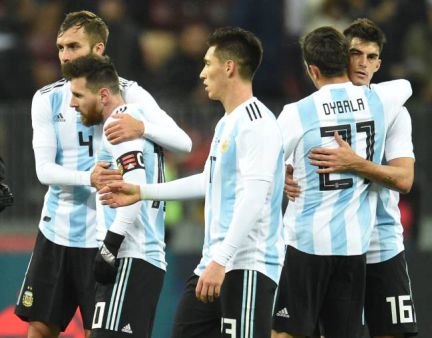 Today, I'm publishing the compelling essay which clinched the first prize in the 2013 Young & Cerebral Essay Competition (yours sincerely emerged 3rd prize winner). It's published here with the kind permission of the author, my very good friend, Abdul Abdullateef Olasubomi.
You can read the second prize winning essay here and the third prize winning essay here.
Abdul Abdullateef (L), yours sincerely (M) and Osita Crownwell (R).
You can read it below or download a PDF version of it here.
Enjoy!
INTRODUCTION
Nigeria marked its 53rd independence anniversary on October 1, 2013. A casual glance at the nation's 53 years journey shows both betrayal of expectations of greatness and the irony of the nation. Despite the abundance of human and material resources, Nigeria remains an undeveloped country with clearly more than half of its population living below poverty line. It is also plagued by myriads of problems which continue to undermine its potentials.
Against this background, this essay examines the major problems embattling the nation at 53 whilst proffering lasting and workable solutions to those problems. This paper posits that the problems of the nation are multifaceted and any solution must be holistic and durable for it to yield maximum benefit. It is argued that hopes of development and greatness are not lost provided the nation steers its ship back on the right track.
PROBLEMS
Falowo (2013) said, 'it is only the full understanding of the root causes of the problem we face today as a nation that will afford us the chances of discerning what solutions are possible, which can work and which cannot'. The problems besetting Nigeria today are many but the most critical ones are highlighted below.
The basic problem crippling the progress of the nation is failure of leadership (Achebe: 1984) Related to this is the problem of bad followership. Another core problem facing the nation is insecurity – insecurity of lives and property. Disunity also hinders Nigeria's progress. There is also no doubt whatsoever that corruption is a major impediment to the nation's success.
Other problems include poverty, unemployment, criminality, ethnic distrust, politicised judiciary, electoral fraud, religious tension, lack of basic amenities of life, epileptic power supply, poor infrastructure, pathetic education system, political crisis, commercialisation of public or government office, resource allocation, failed institutions (political, educational, economic etc), environmental degradation, spread of drastic disease, chronic frustration of citizens, collapse of national ideals and social values, a culture of impunity, widespread celebration of mediocrity, indiscipline and irresponsibility.
SOLUTIONS
The first solution is social transformation and value reorientation. We must work towards establishing a society where people are judged not by their family background, ethnic or religious affiliation, but by merit and character and a society where people imbibe ideals of fairness, justice and honesty.
Secondly, we must ensure enthronement of Good leadership. According to Bola Tinubu (2013), "There is urgent need for a new generation of leaders that would clear the cobwebs of decadence and political scavengers. This new generation of leaders must take our dear country to its manifest destiny".
Also, government must ensure provision of basic amenities of life such as food, clothing, water, road, power, education and employment. It must also ensure improvement in the standard of living.
Other recommendations include an independent and honest press, independent judiciary, strict enforcement of laws, accountability in public office, and policies implementation. Finally, we must uproot the tree of disunity and sow the seeds of unity.
CONCLUSION
At 53, Nigeria is far from its destiny. There is an overwhelming disparity between expectation and reality. Rectifying the anomalies is a joint task incumbent on all stakeholders not just the government. Therefore, all hands must be on deck!
REFERENCES
Emeka Obia, "Nigeria at 53: Making Progress or Remaining Stagnant" (October 4, 2013). Available online at  http://www.bellanaija.com/2013/10/04/nigeria-at-53-making-progress-or-remaining-stagnant-by-emeka-obia/
Kunle Falowo, "THE PROBLEM OF NIGERIA (1)" (April 30, 2013). Available online at  http://nigeriaworld.com/articles/2013/apr/301.html
Simon Kolawole, "Nigeria: Problems and Solutions" (Oct 2, 2011). Available online at http://www.thisdaylive.com/articles/nigeria-problems-and-solutions/99645/
Emmanuel Oladesu, "What is Nigeria celebrating at 53?" (Oct 1, 2013). Available online at http://thenationonlineng.net/new/what-is-nigeria-celebrating-at-53/
Major problems facing Nigeria today. Available online at http://www.africaw.com/major-problems-facing-nigeria-today
Lai Labode, "Corruption is NOT Nigeria's biggest problem" (April 12, 2013). Available online at http://www.ynaija.com/lai-labode-corruption-is-not-nigerias-biggest-problem-y-politico/
Benjamin Chuka Osisioma, "Combatting Fraud and White Collar Crimes: Lessons from Nigeria" (May 22, 2012). Available at http://www.managementnigeria.org/index.php/81-highlights/59-combatting-fraud-and-white-collar-crimes-lessons-from-nigeria
8.      Chinua Achebe, "the Trouble with Nigeria" (1984) Heinemann.